Beefing up your healthy family recipes and planning your meal week? Hold up…There are many common ingredients used in our diets that, while they may be familiar and easy to find, don't always meet the criteria of a nourishing, health-promoting diet. These ingredients can range from cooking oils, flavor enhancers and colors (got food colorings), and other additives to unhealthy fats, processed sugars, and even artificial-natural sweeteners (like agave). While these common ingredients may be convenient or tasty in the short-term, the long-term effects on our health can be detrimental.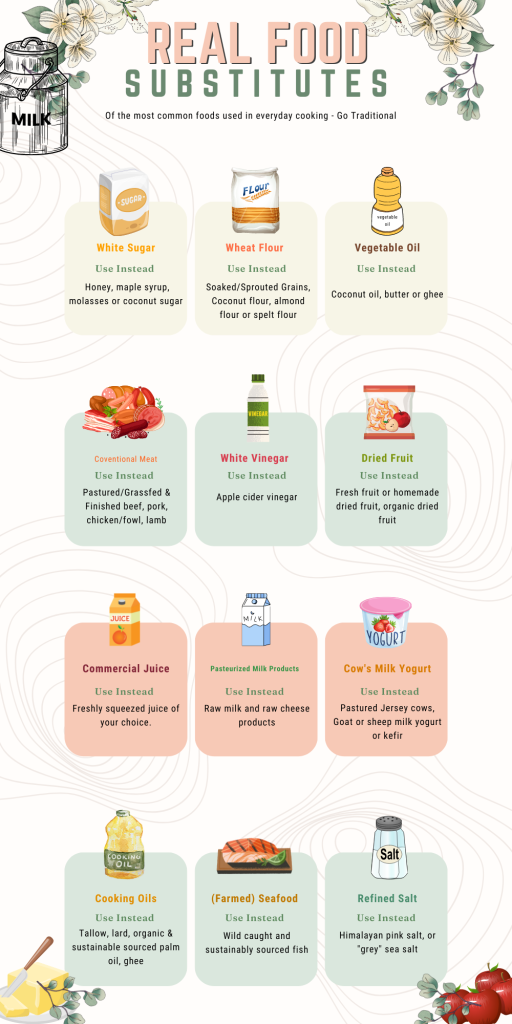 Many people think of common ingredients like whole wheat bread and all-purpose flour, vegetable oils, white sugar, and non-organic produce as being OK staples for cooking. However, according to Nourishing Traditions, these ingredients are not beneficial for a healthy, growing, and developing body and can even be damaging to our health in the long run (just look at the people in the store shopping with you). These unhealthy ingredients can contribute to chronic diseases such as diabetes, obesity, and heart disease while also depleting essential nutrients in the body – leading to chronic pain, fatigue, brain fog, tummy issues, horrible poops, and so much more.
Unfortunately, according to the Food Pyramid guide, given to us by our "uhmm…" not-so-healthy-looking government, those foods listed previously are considered "healthy" and contribute to a long life…right? Well, if that were true, you probably wouldn't be interested in this post for your healthy family recipes!

Traditional nutrition cooking and standard cooking practices are two utterly different things. Traditional nutrition cooking has its roots in the ancient traditions of native villages that thrived on a healthy diet based on local ingredients. These days, traditional nutrition-focused diets are becoming more popular as people realize that many of the "modern" diets recommended by the government aren't all they're cracked up to be.

With traditional nutrition cooking, you can trust that you are using ingredients that are fresh and unprocessed, with no added preservatives or dyes. The focus is on real foods rather than processed convenience items, which means the food will have more nutrients and fewer additives that could potentially cause harm later on. You'll also be able to incorporate a variety of flavors and textures into your meals, which can help you maintain a balanced diet.

Traditional nutrition cooking isn't just about eating better–it's also about learning how to prepare delicious food that is good for you. With this type of cooking, you can learn to make dishes that are both nutritious and flavorful, so that you can enjoy your meals without sacrificing health. Plus, it's a great way to teach your family about the importance of healthy eating habits and to show them that it doesn't need to be boring or bland!

So, let's look at the common ingredients most healthy family recipes call for and what you can use instead with minimal if any, changes in the outcome. 9 times out of 10, the dish comes out tasting better!! You're welcome.
12 Foodie Substitutes To Actually Cook Healthy Meals in Any Recipe
Leave your email below so I know where to send it!
Feel free to download this handy chart for your pantry room or as a delicious addition to your refrigerator art.
12 Starter Food Swaps for Real Healthy Family Recipes
Wheat Flour: Soaked/Sprouted grains, Coconut flour, almond flour or spelt flour
White Sugar: Honey, maple syrup, molasses or coconut sugar
Vegetable Oil: Coconut oil, butter or ghee
Conventional Meats: Pastured/Grassfed & finished beef, pork chicken/fowl, lamb
White Vinegar: Apple cider vinegar
Dried Fruit: Fresh fruit or homemade dried fruit or organic dried fruit
Commercial Juice: Freshly squeezed juice of your choice
Pasteurized Milk Products: Raw milk and raw cheese products
Cow's Milk Yogurt: Goat or sheep milk yogurt or kefir
Refined Salt: Himalayan pink salt
Seafood: Wild caught and sustainably sourced fish
Cooking Oil: Tallow, lard, organic & sustainably sourced palm oil
Simply by switching these common ingredients found in healthy family recipes, you'll yield amazing results. I'm talking about simple swaps like subbing ghee for olive oil when cooking or making cauliflower or sourdough pizza crust instead of traditional dough. With these simple changes, you'll end up with nutrient-filled dishes that your family will love–and no one has to know how healthy it is! So get cooking and enjoy the health benefits of grass-fed goodness.
---
Where to Start Swapping Foods in Healthy Family Recipes
If you want to do this, you have to start somewhere when it comes to making food changes. We all get into a habit and we love our favorite foods, so just swapping one out for another isn't as cut and dry as some of us would like it to be. It takes knowledge and intentions, so let's start with the basics. Grass-fed meat is a good place to start and there are many benefits when it comes to making this switch, including better nutrition, taste, and health benefits.
If you want to make sure you're getting healthy food choices into your diet, grass-fed beef is an excellent starting point. With its high levels of omega-3s, vitamins, minerals, and more, it's a great choice for those who are looking to make a real nutritional difference in their lives. Plus, the flavor is unbeatable! Since meats tend to be the main course of most meals, start here.
Next, an easy switch would be your salts. Switching to unrefined sea salt, like Himalayan pink salt or Celtic grey salt, provides more minerals than regular table salt. This is beneficial to your family's development and overall health, so start adding it to your healthy family recipes right away.
Make a note to make one swap with each grocery shopping trip. If you shop once a week, twice a month, or just once a month – making a small swap, a small change to your healthy family recipes will be all the difference in just a few short months! So, start easy, start small, just make sure you start!! Would you like to see more "foodie" food substitutes??
Pin This for some healthy family recipes!