Breastfeeding can be a wonderful experience for both mom and baby. But it takes energy to make milk, which means that nursing mothers need to ensure they are eating the right foods to stay nourished and keep up their milk supply. Fortunately, there are plenty of easy snacks for breastfeeding moms and recipes designed specifically for breastfeeding moms!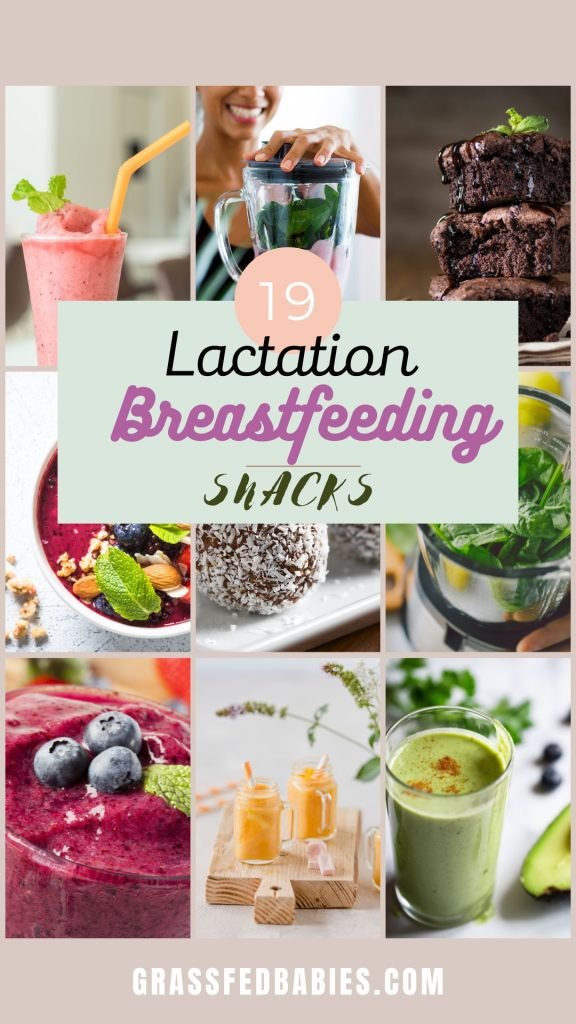 From quick on-the-go bites, whipped-up, crazy delicious smoothies, and shakes, to more substantial meals including hearty oatmeal bowls and stews – we've got plenty of yummy ideas that will give you the nutrition you need while satisfying your taste buds with these breastfeeding snacks. So let's get started with these easy breastfeeding snacks & lactating recipes because breastfeeding mothers (like me) are often on the lookout for ways to increase their milk supply.
One of the best options for this is when considering your smoothies and shakes, use raw A2 milk and herbs that promote milk production and nourish your supply. This type of milk contains beneficial enzymes and high levels of protein, healthy fats, vitamins, minerals, and more that can help to support the immune system and increase breast milk production. Make use of A2 raw milk to provide breastfeeding moms with a delicious way to feed their babies while you make healthy snacks while breastfeeding. If it's unavailable, make your own nut, seed, or non-gluten grain milk (like oat milk).
Raw Milk vs Vegan Milk – Which is Better as a Breastfeeding Snack?
For many nursing moms, vegan kinds of milk and plant-based proteins can be great options that are dairy-free breastfeeding snacks. They are rich in calcium, B vitamins, and iron, all of which help to ensure healthy breast milk production. In addition to these nutrients, vegan proteins and dairy alternatives are naturally lactose-free which means they're easier to digest and can help to reduce symptoms of lactose intolerance. Use vegan kinds of milk (use a nut milk maker to make your own) when A2 raw milk from pastured Jersey or Guernsey cows is unavailable in your area or when you want dairy free breastfeeding snacks. Raw goat milk is an excellent choice too!
However, raw milk is still the best choice for breastfeeding snacks & lactating recipes. Raw dairy has beneficial enzymes that are destroyed when pasteurized and can help to improve digestion as well as promote healthy gut bacteria which in turn helps with breastmilk production. Additionally, raw milk is higher in beneficial fatty acids and proteins that help support the immune system.
Whether you're looking for a quick snack or something more substantial, we have plenty of delicious recipes to choose from. From smoothie bowls and overnight oats to dairy-free pancakes and a variety of savory dishes – these breastfeeding snacks & lactating recipes will keep your energy up, help promote a healthy milk supply, and provide the nutrition you need to keep both you and baby feeling great.
Shakes and Smoothies – The Quick Nursing Mom's Snack
These are easy-to-make breakfast options or quick breastfeeding snacks that are packed with protein, fiber, calcium, and numerous other healthy vitamins. Definitely look for high-protein snacks for breastfeeding and increasing lactation. For example, blending banana and almond butter with a scoop of protein powder makes for an ideal lactation snack. You can also add raw honey for added sweetness or goji berries to increase the iron content. Or, get fancy with the following recipes which are approved* by this foodie mama!
*Use real food substitutes for traditionally prepared foods for some of these recipes (ie. soaking oats for 12-24 hours before using).
Quick & Savory Make Ahead Snacks for Breastfeeding Moms – Recipes
When you want something to chew & snack on, these are good snacks for breastfeeding moms and recipes that are sure to please you (and your baby) when you want to increase your milk supply and have a great track record with your lactation journey! Don't worry, some of these are good breastfeeding snacks to whip up in no time!
I hope these breastfeeding snacks and lactating recipes have given you plenty of ideas to help nourish your body while increasing your milk supply. Whether you're in the mood for a smoothie, shake, or something more substantial like oatmeal bowls or stews – there are lots of tasty options that can provide essential nutrition for both mom and baby!
---
Mindful Ingredients for Your Breastfeeding Snacks
Don't forget to use A2 grass-fed raw milk when possible as it contains beneficial enzymes and high levels of protein which can support the immune system and increase breast milk production. Look for a farmer near you so you can put the best ingredients in your breastfeeding snacks and smoothies. Otherwise, consider making your own vegan kinds of milk so you know nothing is added and nothing is missing!
Preparing Oats
According to traditional nutrition practices, you don't want to just take your organic oats and dump them into the blender. This may cause some stomach and gastrointestinal inflammation and irritation. If you have more farts, bloating, unusual feelings of fullness or excess tiredness after eating oats, then you definitely want to do this first. Even if you don't have these symptoms, it's always a great idea to extract the maximum about of nutrients from your foods no matter what.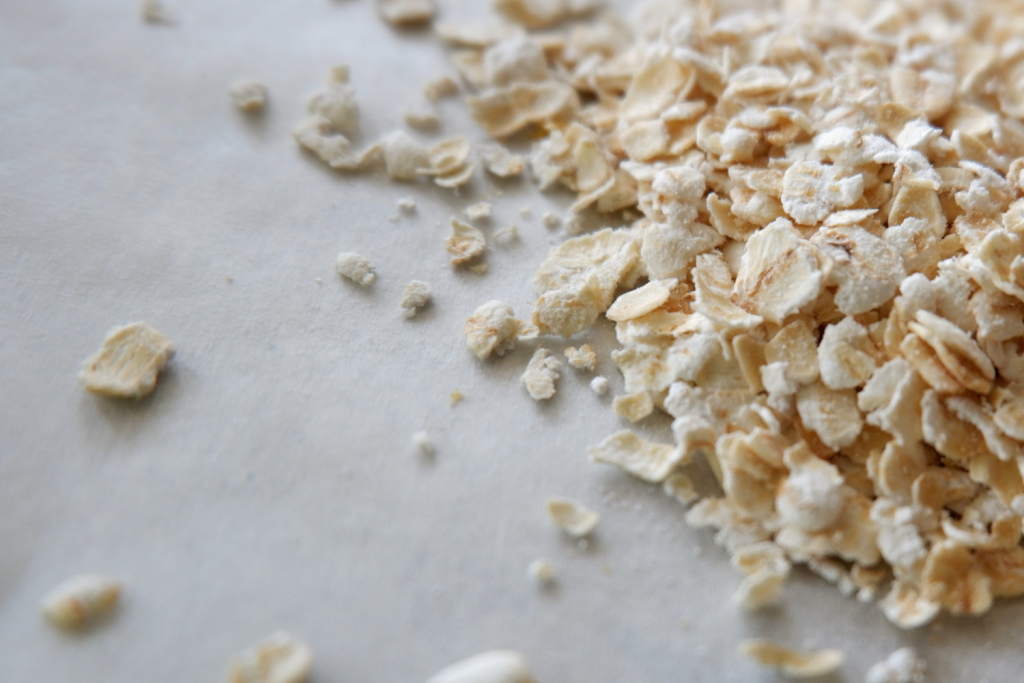 Oats are an excellent source of nutrition and lactation bestie, avoid quick oats. These are stripped down and empty calories aren't doing you or your boobs any good. Second, stick with thick rolled oats (my personal fave) or steel-cut oats (these need more soaking time). Of course, go organic, or just don't buy them. To prepare your oats properly, I suggest making a large batch and either storing them in the fridge, freezing them, or better yet, place them in ice cube trays, soaked and ready for your lactation smoothies once frozen!
Soaking Oats
To prepare your oats, you'll first need to soak them properly. Oats can be soaked overnight, or for at least 8 hours. Use a 1:1 ratio of water, adding more water if it looks 'dry'. Do not use tap water (for the love). Be sure to add a fermenting agent like whey, kombucha, ACV, or a little liquid from your sauerkraut. You only need about 1t – 1T. After soaking, you'll need to drain off any excess liquid (especially if freezing), then add it to your smoothies as you desire, freeze or refrigerate for later use.
Preparing Nuts & Seeds
When your lactation snacks and smoothies call for nuts and seeds, you do have the option to properly prepare these as well. To save time, you can keep nuts and seeds on hand that have already been soaked, sprouted, and dried. This way all you have to do is add them to your recipe! Keep in mind that not all nuts and seeds need to be properly prepared before eating.
If you're looking for a quick snack without the prep work, just look for raw or dry roasted nuts without any added ingredients (sea salt is OK). If you just don't have time – use them (organic) as is and just see if you have any tummy discomfort or unpleasant bowel moments that don't feel relieving!
---
With this collection of yummy treats and breastfeeding snacks, we're sure you'll find something delicious that's perfect for any time during your breastfeeding journey. Don't be shy to send this list to someone who can make these breastfeeding snacks for mom, she's doing enough already! And yes, you can definitely have these breastfeeding snacks at night! Nom nom Nommy to you and your babe! Enjoy, Mama!
Pin This deliciousness!